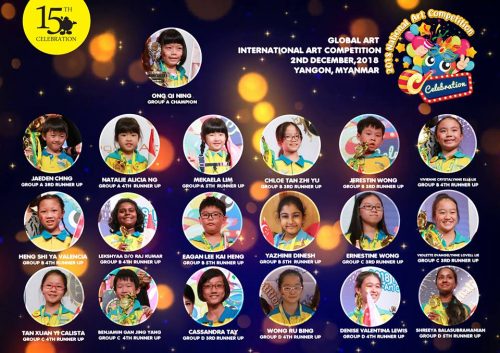 Last Sunday was a special day to our Global Art Singapore. It was the day that our lovely Singapore representers went to Yangon Myanmar to compete with other countries all around the world. No matter which prizes you got, you are always our champions. Good job to everyone and we are looking forward to the next competition in 2019.
Group A:
ONG QI NING-Champion.
JAEDEN CHNG-3rd Runner Up.
NATALIE ALICIA NG-4th Runner Up.
MEKAELA LIM-5th Runner Up.
Group B:
CHLOE TAN ZHI YU-3rd Runner Up.
JERESTIN WONG-3rd Runner Up.
VIVIENNE CRYSTALLYNNE ELLE LIE-4th Runner Up.
HENG SHI YA VALENCIA-4th Runner Up.
LEKSHYAA D/O RAJ KUMAR-4th Runner Up.
EAGAN LEE KAI HENG-5th Runner Up.
YAZHINII DINESH-5th Runner Up.
Group C:
ERNESTINE WONG-3rd Runner Up.
VIOLETTE EVANGELYNNE LOVELL LIE-3rd Runner Up.
TAN XUAN YI CALISTA-4th Runner Up.
BENJAMIN GAN JING YANG-4th Runner Up.
Group D:
CASSANDRA TAY-3rd Runner Up.
WONG RU BING-4th Runner Up.
DENISE VALENTINA LEWIS-4th Runner Up.
SHREEYA BALASUBRAMANIAN-5th Runner Up.
Thank you so much for all of your supports.
We love you.
Best Regards from Global art Singapore.