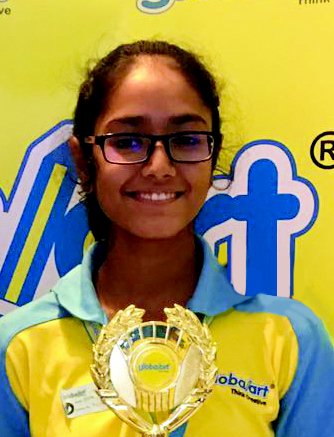 MY EXPERIENCE IN GLOBALART
Having been in Globalart for 5 years, I have learnt many things. Over the years, Globalart has taught me to be more creative with my ideas and my work, to broaden my imagination and to learn different methods of art. When I joined Globalart in 2012, I was put into level 1, and from there i practiced my work until I reached the advanced level today.
During my time in Globalart I participated in a few competitions. In 2014, I participated in the in-house competition with the theme "Saving Earth" and received the consolation prize. Later in 2016, I participated in the national competition, the theme being "World of Circus" and was awarded the runner up prize. I was extremely happy as it was my first time in the national competition. The next year, 2017 was even better for me as I won the champion prize for the national competition where the theme was "My Dream City". I was given the opportunity to travel to Malaysia for the international competition. I was very excited to be sponsored to participate. The intonational competition was one of the best moments in my life as I was declared champion and was given a huge trophy and many other prizes.
Globalart has been an important part of my life. I would like to thank all the wonderful teachers who taught me in Globalart and for shaping me into the person I am today. My experience in Globalart is one i will not forget.